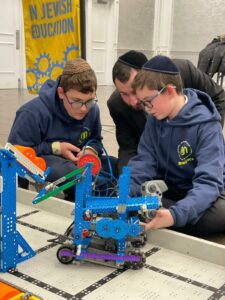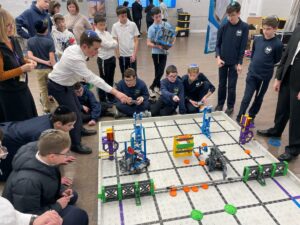 The Robotics and STEM students at the Abraham and Sarah Silber Middle School Division at the Yeshiva of South Shore have once again claimed a top spot in the CIJE Inter-Yeshiva Robotics Competition, coming in first place this year!
Under the guidance of our Robotics and Stem Director, Mrs. Elisheva Pinsky, and our Mechina English Principal, Mr. Daniel Winkler, the 8th grade students brilliantly designed and manipulated their robots in a tri-state competition, coming away with the highest score of all the competing yeshivos after all the rounds were completed.
Congratulations to our team coach, Mrs. Elisheva Pinsky, and coach Yehuda Jacobs, (YOSS Alumnus), who worked tirelessly with the boys preparing them for the tournament.
The tough competition required the students to design and build robots with the capability and functionality to drive around an arena; release discs from the 3 types of dispensers; collect the discs inside the robot and move the discs from the robots to a shooting mechanism with enough speed and torque to get the discs under a fence. The boys utilized the skills, strategies, and team-building exercises they have been working on and once again, rose to victory in the Inter-Yeshiva competition.
The competition was held locally, in Inwood, and we thank CIJE for arranging the event and the many loyal YOSS parents who came to the event to cheer on their sons and see YOSS nachas firsthand.
Robotics is just one of many extracurricular activities at which the Yeshiva students are engaged and excel!
Yasher Koach to our Team Champions – Akiva Cunningham, Natanel Greenstein, Levi Orman, Gavriel Ovits, Akiva Sector, Moshe Shtern and Moshe Trump. They have been collaborating both in and out of yeshiva for many months leading up to the competition, focusing on math, engineering, and advanced technology!