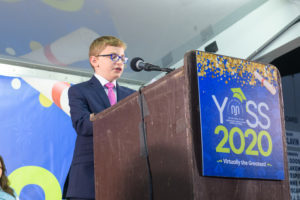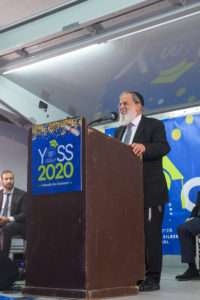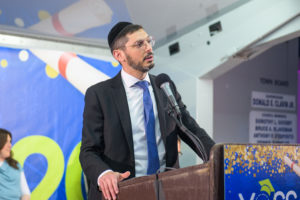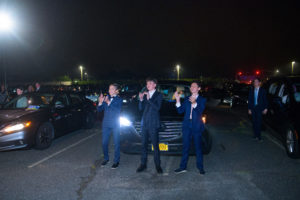 To commemorate and celebrate the Yeshiva of South Shore Graduating Class of 2020, YOSS hosted a very unique first-ever celebration – A drive-in graduation ceremony at the Sands of Atlantic Beach parking lot!
Lively music pumped out of the thousand watt speakers in the parking lot as the graduates and their families pulled up. They parked in designated spots, opened their windows, and socially distantly mingled, waved to and greeted their friends, and congratulating each  on this exciting milestone.
Four extra-large video screens around the parking lot provided a perfect view for all the attendees, and the audio of the entire event was carried over the FM airwaves. It was also live-streamed for those unable to attend.
The Rosh Yeshiva, the Menahelim, the General Studies Principals and the Rabbeim took their seats on the outdoor stage, and Rabbi Shlomo Drebin, YOSS Program Coordinator, played Im Eshkocheich and G-d Bless America.
Mr. Daniel Winkler, General Studies Principal of The Abraham and Sara Silber Middle School, opened the ceremony with his message to the graduates. In his opening remarks, Rabbi Zev Davidowitz, Menahel of Mechinas Toras Avraham, praised the talmidim for their outstanding accomplishments, especially during the past few months.
Honorable Bruce Blakeman, councilman of the Town of Hempstead, graced the event and addressed the students. He wished them a hearty Mazal Tov and encouraged them to continue learning and studying.
The three valedictorians, Aiden Buchbinder for Limudei Kodesh and General Studies, Aharon Grossman for Limudei Kodesh, and Daniel Klein for General Studies, captivated the audience with beautiful tributes to the yeshiva, thanking their Rabbeim, Menahelim, and teachers, as well as their parents and friends. The salutatorians, Daniel Klein, Yitzy Lowe, Yakov Meisner, Gavriel Ostreicher, Mordechai Ross and Daniel Roth were also recognized.
The Rosh Yeshiva, Rabbi Mordechai Kamenetzky gave the commencement address. Drawing a correlation from the men who approached Moshe Rabbeinu to bring the Pesach Sheini, he suggested that the talmidim inspire their Rabbeim to teach Torah n the highest level. He thanked the talmidim for being the catalyst through which their Rabbeim can inspire all the talmidim for further growth in Torah and Avodas Hashem.
The 8th grade Rabbeim, Rabbi Moshe Shonek, Rabbi Yaakov Rosenwasser, Rabbi Yonah Stern, Rabbi Chananya Grinberg, called each talmid by name to come up and receive their diplomas and awards. Rabbi Yaakov Pressman, the beloved veteran 8th grade rebbe, was recognized for his dedication although he could not attend in person as he recovers from an illness.
Rabbi Shonek then installed the students as official graduates and alumni of Yeshiva South Shore Bais Binyomin.
In addition to the diplomas, each student received a gift bag with two sefarim and a book, "Footprints", along with a complete camp package, including a lounge chair, blanket, overnight bag, water bottle, and other gifts.
A unique event, the graduation was both inspiring and fun. It was an evening that will be surely be remembered forever.