This past Sunday Yeshiva of South Shore held its annual Rebbe-Talmid game in the Abraham and Sara Silber Mechina Gymnasium. It was a beautiful sunny day and parents and students from the entire Yeshiva flocked to the gym in anticipation of the game. The game is a great opportunity for fun and laughter, and also benefits the 8th grade yearbook.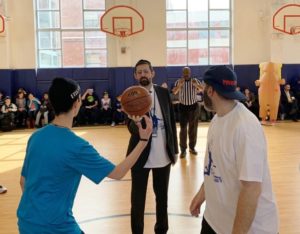 The game was preceded by the Mechina's first annual 3-on-3 tournament's championship game. The game was thrilling and came down to the wire with the winning team edging out by 1 point. Congratulations to Avi Slomnicki, Yisrael Seigel, and Tzvi Fohrman on winning the championship. The trophy ceremony took place right before tip-off. All players that made the final four received medals as well.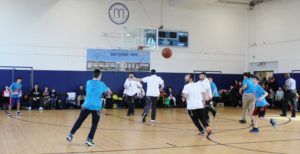 There was a lot of hype leading into this Rebbe-Talmid game as Mr. Moshe Buchbinder, father of 8th grade student Aiden Buchbinder, had been coaching and preparing the 8th grade students for the game. Between teaching the boys press defenses and motion offenses, the team was poised for an upset victory. The game was played with fierce intensity. Despite trailing to the Rebbes early in the game, the 8th grade battled back and cut the lead to five before time ran out. The students put up a valiant effort and played with a tremendous level teamwork and Achdus.