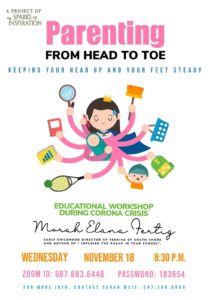 Last week Mrs. Elana Fertig, Early Childhood Director of Yeshiva of South Shore, presented a parenting webinar for mothers, planned by Sparks of Inspiration and the Aish Kodesh Sisterhood.
In a friendly and realistic manner, Elana Fertig, shared her simple and doable ideas, which she has learned through her experiences in raising her own children, as well as her experiences in helping raise other people's children, over the last 2 decades.
Her first message is that we as mothers need to remember this mantra:
"I am a Super Woman, and I know no one is perfect". We need to realize that we are our biggest critics, and that we need to support ourselves, and applaud ourselves."
Some of her messages were the importance of routines, schedules, the value of sleep and the ability of our children to make us feel guilty ("its' in our DNA as Jewish Mothers to feel guilty, and it's in their DNA to know how to make us feel guilty.")
Mrs. Fertig, ended by saying, "Parenting is like the Hokey Pokey: Sometimes you have to put your whole self in, mind, body and soul…and sometimes you just have to shake it all about… and let it go.
Click HERE to watch the webinar