When YOSS closed the physical doors to our school, Mrs. Lowenstein's extensive classroom library was closed, too. "This broke my heart. My students without books? After fostering a love of reading by putting the right book into the right hands, all of the students wanted something to read, but books were not to be found.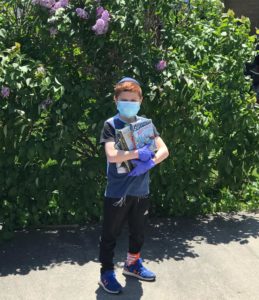 A few weeks ago, when allowed back into the school to get materials, I rounded up bags and bags of books and shlepped them home. They filled corners of every room in my house, but my students still didn't have them. I was determined to find a way.
With the promise of fine weather on this past Sunday, and the piles of copied papers parents needed to pick up, an idea bloomed. Why not set up a Garden Library?
Parents received an email about the time our library would be open and were asked to make an appointment. Only one family was allowed on my deck at a time, and each person had to wear a mask and gloves. Siblings were welcome!
Sunday morning I set up bins and cardboard boxes of books on tables on my deck. I opened my Garden Library, and people came! Books filled not only their hands, but their arms, and also bags and backpacks!
For some children, this was their first outing in weeks. The joy and excitement was visible even with masks covering much of their faces. Their small hands flipped deftly through bins of books with floppy too-big gloves not a deterrent. They were told to take more, and more. "Read through the summer."
I took pictures of these wonderful moments of my precious students reunited with books. One said, "But, Mrs. Lowenstein, you can't see my smile!"
"Oh, but I can. I see it in your eyes."