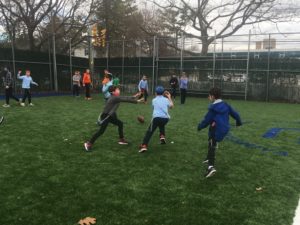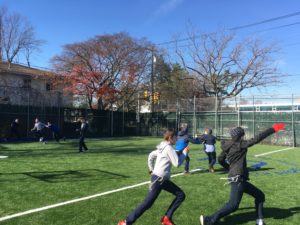 Here at YOSS we are not only constantly upgrading the learning experience for our talmidim, but also the entire day – including recess!
Thanks to a generous grant from Cross River Bank, and contributions from devoted parents and friends, we are  proud to introduce "Cross River Field" –  a state-of-the-art artificial turf football field. Talmidim are immensely enjoying the new field, which offers them a greatly upgraded playing experience during recess.
The 100×60 foot field is strategically located on the far end of the other playing fields, and offers a NFL-like playing experience, complete with a 50 yard line and real endzones, and with the look and feel of a professional football field. The boys could not contain their excitement and passion for football as they dug their sneakers into the turf, completed passes, handed the ball off, and scored touchdowns!
"We are constantly looking for ways to make sure that our boys enjoy yeshiva, and we are confident that this will be one of them" said Rabbi Shmuel Kamenetzky, Director of Advancement. "We are excited that this project has come to fruition, and we welcome this major upgrade to the YOSS campus"
The field comes as a major campus upgrade to the YOSS campus, in addition to another new playing field which we have recently paved on the footprint of a recently purchased house next door.
The Talmidim  will surely enjoy playing on the new fields, and their Rabbeim and teachers are confident that these added outlets will allow them to come to class refreshed and invigorated… and ready to tackle their learning!