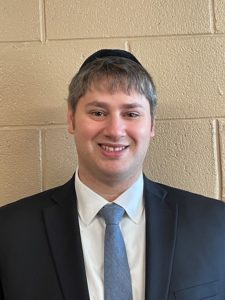 YOSS is excited to announce the addition of Mr. Eli Fogel as our Director of Guidance and Counseling for the Mechina Toras Avraham – The Abraham and Sara Silber Middle School. 
Eli is an LMSW who brings years of experience working with school-aged children. Previously, Eli was a highly sought after therapist at Ohel's Children and Family Clinic in Far Rockaway, was the assistant director for Madreigos's "The Lounge', and worked in multiple schools and in the Five Towns/Far Rockaway area including HAFTR and HALB. He has worked collaboratively with our school and administration on many occasions and has a keen understanding of YOSS's unique mission and goal for each individual student. 
In his new role at YOSS, Eli will work collaboratively with our Hanhallah, Rebbeim, teachers, students, parents, and outside professionals, to help ea
ch individual thrive and be the very best that they can be. Eli will meet and offer counseling to students as a support and guidance to improve their social, behavioral, and emotional well-being in school. This includes weekly meetings with students to check up on their progress, and constantly being in touch with their Rebbeim and teachers for real-time updates on the students' progress.
Additionally, Eli will be communicating with necessary outside professionals and the YOSS resource department and mental health team, to benefit the student's personal development. He is collaborating with Rabbi Yehuda Kamenetzky, Student Services Coordinator, and Dr. Ethel Cwibeker, School Psychologist, to determine and execute the best plan of action to ensure the academic, social, and emotional success of every boy.
This global approach to mental health will enable the YOSS Hanhallah to have an informed picture of a student's needs and progress so we can help him continue on this path or make any needed adjustments. 
"After being here just a short time I have already witnessed firsthand the real commitment and genuine drive the Hanhalla, Rebbeim, and teachers have, in helping each Talmid grow and succeed in a wholesome and warm environment," Mr. Fogel commented after his first week at YOSS.  "It truly is remarkable."
With the addition of Mr. Fogel, YOSS looks forward to a year where each and every talmid will grow and achieve his full potential.