This past Sunday, Yeshiva of South Shore hosted elected officials and the Senior Management of Cross River Bank for a unique ceremony. Realizing that the boys need additional outlets to enhance their day and compliment their day of learning, the yeshiva set a goal last year to construct a 1600 square foot artificial turf football field on their campus. This project was spearheaded by a group of parents from the Young Leadership committee of YOSS, and was completed thanks to the generosity of Mr. Yaakov (Gilles) Gade, President and CEO of Cross River Bank. With the completion of the project, the field was named, "Cross River Field at YOSS."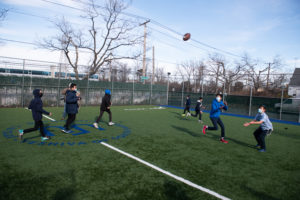 Mr. Yaakov Gade and Hon. Phil Goldfeder, Senior VP of Cross River Bank graced the event, as well as Town of Hempstead Supervisor Donald X. Clavin, and Councilmen Anthony D'Esposito and Bruce Blakeman. Rabbi Shmuel Kamenetzky, Director of Advancement of YOSS remarked how Mr. Gade saw a way to enhance the yeshiva experience for the boys, and then practiced genuine leadership, as he followed through and made it happen.
The short program included a gift presentation to Mr. Gade, a ribbon cutting ceremony by elected officials, and the highlight – Mr. Yaakov Gade "kicking off" the field with a 30-yard punt!
The Hanhalla of Yeshiva of South Shore is excited for this new addition, and the rabbeim and teachers are seeing the boys' day enriched by quality physical exercise and enjoyment during their recess time
.