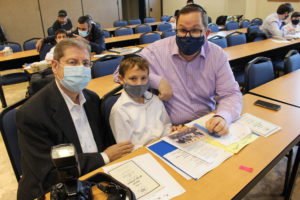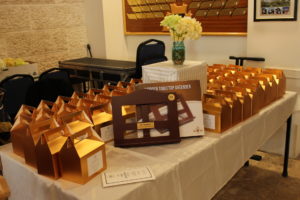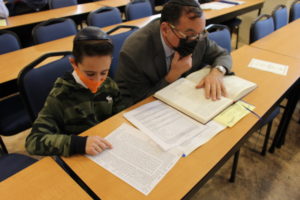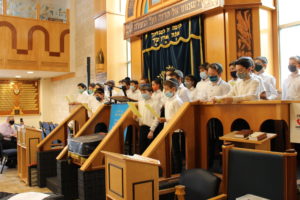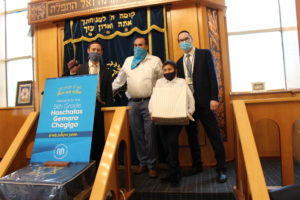 This past week our 5th grade  celebrated the momentous occasion of Haschalas Gemara. Due to health and safety concerns there were three separate chagigas held this year, one for each 5th grade class.
There was a powerful Kol Torah heard in the Beis Medrash from the fathers learning with their sons! Although the event was with all safety precautions – socially distant and masked,  without a sit-down breakfast, the learning and divrei bracha v'chizuk certainly brought everyone a true appreciation of how lucky we are, to learn Gemara! The inspiration was palpable both in the room, and on the live stream for those who chose to "attend" via zoom.
The Rosh Yeshiva – Rav Mordechai Kamenetzky, addressed the assembled, as well as each class Rebbi and the Menahalim of the elementary and Mechina divisions –  Rabbi Avraham Robinson and Rabbi Zev Davidowitz.  A talmid from each class addressed the crowd as well.
A highlight of the morning was the amazing performance by each class of Abie Rotenberg's "Lulei Sorascha". Headed and directed by Rabbi Shlomo Drebin on keyboard, with guitar accompaniment by Rabbi Natan Wolf – the boys sang in unison with tremendous feeling, ushering in this new exciting era in their lives with a beautiful niggun. The moving words and music reverberated through the hearts of everyone present.
The chagigah concluded with the presentation to each talmid of personalized shtenders and one lucky winner per class of a beautiful set of Shas. Every guest took home  a beautiful breakfast package prepared by the PTA.
There is no doubt that this year's Haschalas Gemara Chagigos will be indelibly etched in the memories and hearts of each boy and even all the adults present. May each boy continue to bring nachas to his family, and the entire community!